Stained Glass Guild / Stained Glass House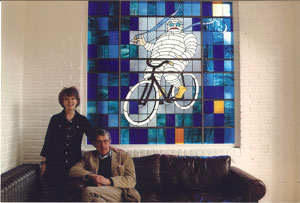 Our "Michelin Man" panel was made for a family in Balham and looks amazing in their kitchen side return extension.
About us
David [above], has been making, restoring and reproducing stained glass since 1977 in The Stained Glass Shop on the one way system in Wandsworth behind the Town Hall. He has recently relocated to The Stained Glass House studio, close to the river in Kingston-Upon-Thames. Here we make all kinds of stained glass, traditional and modern, for households, architects, the church and London Boroughs. Merton and Wandsworth include us on their list of designated contractors and as we are stained glass painters as well as makers we can produce work that is eligible for grants in conservation areas.
The Guardian newspaper said of David "He is a stickler for historical accuracy and tries to ensure that any window he makes will be appropriate for the house for which it is destined."
We are happy to advise on security and buildings regulations
His partner Kathryn [above] paints and stains glass, using the traditional kiln firing methods and materials that preceded her for many centuries. She specialises in reproducing Victorian stained glass painted birds, flowers and decorative borders. She is a member of the British Society of Master Glass Painters.
The Stained Glass Guild gives free information on all aspects of domestic stained glass from the Victorian to the Art Deco period.
The images above show work that we have recently completed. The panels are made of over 400 pieces of individually cut and leaded glass. 111 of them are intricately hand painted and kiln fired in the traditional manner.
| | | |
| --- | --- | --- |
| Thank you for visiting our site - you are visitor number | | |